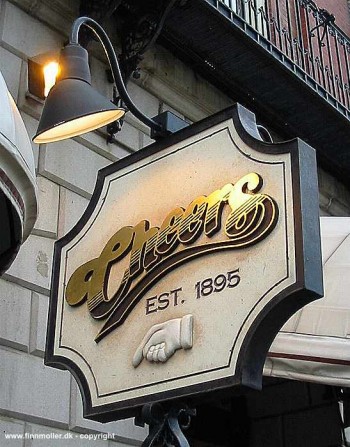 spoken:
chaiuhs
. A universal toast that translates across English language-dominant countries. Also one of my favorite TV shows in the Eighties, a real bar in Boston (which I visited once; not where the show was actually filmed - a Paramount lot in Hollywood), and a (sports) bar on George Street in Sydney which I have yet to visit.
I love how this word can mean almost
anything
in Oz: "thanks," "your welcome" (which Aussies never say - sounds really dorky after a while, like "good for you," or "please put this on my credit card," or "dorky" - emphasis on very hard nasal "r's"), "no problem" (or more aptly, "no worries," which I'm saving for a future entry), "goodbye," a suitable substitute for "roots" - or just something vaguely friendly to say when there's a pause in conversation, and you're at a loss for words.
Also my preferred closing on letters, along with "best" (so typically American, no?) and xx (has replaced xo - perhaps cos ppl in Oz and the UK and the rest of Europe kiss more than hug socially?) And I must be missing Australia since I'm ending declarative sentences with question marks?
I find "cheers" to be appropriately polite but a lot less stiff than "regards" or even worse, "kind regards," which just sounds wrong, especially when you have no idea who the email is from and there are no genuine feelings of kindness on either side of the correspondence.